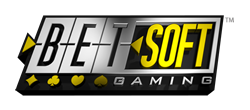 Betsoft Gaming is a future-facing European online gaming company that has embraced the shift to HTML5 with a wide variety of beautiful games that will run on numerous platforms. The company was founded in 2006 but its roots in the tech sector go back to 1999. From the very beginning Betsoft has always been interested in pushing the envelope with graphically-intense 3D slots. It's a far cry from some of the established slot manufacturers who focus primarily on old-school style reels.
Betsoft actually created its own suite of high-end slots called SLOTS3, which feature state-of-the-art graphics and a wide variety of themes. There's also an arcade version of SLOTS3, which focuses on rapid-fire action and potentially huge jackpots. In 2016 Betsoft made the wholesale transition to HTML5 through an initiative it called "Shift", which merged its desktop and mobile software clients into a single, stream-lined browser-based portfolio. Thanks to the shift to HTML5, Betsoft games run faster, look better and are more accessible than ever before.
Unlike many of its competitors, Betsoft is not limited to just slots and has actually produced some exceptional table games over the years in addition to video poker and a unique heads-up poker game. With over 180 different games, Betsoft is a giant in the industry with standout games that keep players coming back for more.
Software
Betsoft has always had a keen eye on the future and has worked with nearly every kind of technology over the years including standalone desktop downloads, mobile apps and flash-based tech. These days Betsoft is nearly 100% HTML5. However, and it's a huge boon for the company as the majority of its product is scalable to any device that can run a web browser like Chrome, Safari, Firefox or Microsoft Edge. That means PC, MacOS, iOS, Android and even Linux users can get it on the action whether their device is an expensive desktop computer or a tiny iPhone.
The switch to HTML5 has revolutionized the online gaming industry and that's illustrated very well on Betsoft. Games look better, run faster and are more accessible than ever before. Betsoft, in particular, has always put the emphasis on creating high-concept 3D slots so the company is thriving in the brave new HTML5 world.
The technology behind Betsoft's SLOTS3 games is particularly impressive. SLOTS3 was invented as a new standard for Betsoft games with vibrant graphics and outstanding sound effects that help create a more immersive experience. SLOTS3 are unlike anything that was offered in the early days of online casinos with video game console level graphics and seamless borders. There can even be times when you're playing SLOTS3 that something will move that you didn't even realize was part of the game. It's fantastic and keeps players coming back for more.
Games Overview
Betsoft has an absolutely fantastic selection of games with over 180 different offerings. The great thing about Betsoft is that it manages to not only have some truly iconic slots but some incredibly solid table games as well as video poker and classic slots. The company also offers some truly unique games like Heads Up Hold'em 3, Virtual Racebook 3D and Scratcherz.
The overall industry has certainly shifted to a more slots-heavy experience but it's always nice to have some variety and Betsoft is one of the few companies that has solid games in just about every segment.
Slots

The vast majority of Betsoft slots are unabashedly new-school and will likely appeal to anyone looking for a more video game-like experience. Giovanni's Gems offers an experience that should be familiar to anyone who's ever played a game of Bejeweled on a Mobile device while Fire & Steel will likely appeal to fantasy fans. There's truly something for everyone on the site with Sin City Nights, The Slotsfather II, Frankenslots, Gypsy Rose, Event Horizon, Weekend in Vegas, Fruit Zen and Kawaii Kitty.
Be warned that some of the older games on Betsoft are still running on flash, which makes them a no-go for mobile users. Thankfully mobile users still get all the newest games, which are the more highly sought-after ones anyways.
Betsoft does offer some classic-styled slots for the old-school crowd with Lucky 7, Jumbo Joker, Blood Eternal and 7th Heaven Royal Reels but if you're looking for those style of games then there are plenty of better options.
Table Games
In a time when more and more developers are starting to ignore table games, Betsoft actually has a great offering in the segment with over 20 different games.
The company has all the classics such as Blackjack, Baccarat, Craps, Roulette and Pai Gow Poker but a number of more obscure games like Pirate 21 Blackjack, Red Dog, Oasis Poker, Ride Em Poker, 3 Card Rummy and Top Card Trumps. Blackjack fans will be particularly pleased as Betsoft offers seven different variants of that game alone.
All the table games play quite well and are a fantastic place to learn new games before heading to a casino and embarrassing yourself. Perhaps the only downside to table games on Betsoft is that they all run on the old Flash platform, which means mobile users are pretty much out of luck. Regardless, table games are a strong point for Betsoft.
Live Casino
The up-and-coming Live Casino — live streamed games from actual casinos — is pretty much the only part of the industry where Betsoft doesn't offer a product.
Non-Casino Offerings
Betsoft offers a few non-traditional casino offerings that you are unlikely to find anywhere else. One is an interesting poker game called Heads-Up Hold'em where you face off against an AI opponent, another is the Virtual Racebook 3D and finally Skratcherz, which mimics physical scratch-and-win tickets. None of the aforementioned games are really anything to write home about but they represent a nice change of pace from the regular casino games.
History
Betsoft is a European online gaming supplier that originally started in Cyprus but now is headquartered in Malta. The modern version of the company was founded in 2006 with a vision to produce high-end slots with graphics straight out of the latest video game titles. Betsoft achieved the first step of that goal when it introduced its first SLOTS3 title in 2010. SLOTS3 proved to be an instant hit in the industry and helped pave the way for more graphically-intense games. In 2014 Betsoft started focusing on the burgeoning mobile gaming industry and began porting all of its SLOTS3 titles to mobile.
More recently Betsoft initiated a company-wide shift from Flash technology to HTML5, which made the majority of its games accessible on virtually any device the user chooses. These days Betsoft has offices around globe with licenses from several different gaming bodies including the Alderney Gaming Commission. Betsoft software is utilized by more than 100 different online casinos around the world.
Our Take
The Betsoft software is incredibly well-rounded with a little something for everyone. Most online software packages make users chose between next generation slots and reliable table games but somehow Betsoft manages to offer great versions of both.
Betsoft's quick transition to the superior HTML5 format for online gaming has also been an inspiration to other gaming companies. The company is slightly underrated in the industry in our opinion with some fantastic games that will keep players coming back for more.