EGT Interactive is an unusual casino gaming developer that is based in Bulgaria. The company is actually a subsidiary of the older Euro Games Technology (EGT), which is one of the biggest gaming equipment suppliers in Europe. EGT Interactive opened its doors in 2014 and, despite entering the industry fairly late, subsequently became one of the fastest growing online suppliers in Europe with over 100 different games.
The company's bread and butter is its high-end slots that should be familiar to anyone who's been inside a casino in Europe over the last 10 years. The slots on EGT have a slightly more traditional look than some of the newest games from Swedish tech firms but anyone looking for a classic spin will be right at home with EGT. The company also offers some large progressive jackpot games.
EGT is not limited to just slots, however, and offers a full portfolio of casino games including table games, video poker, keno and more. While every casino is looking to make money, EGT bases its games on what it calls the Return-to-Player (RTP) model that attempts to give players the maximum value for their gaming dollar.
Software
Nearly all of EGT Interactive's games are based in flash, which is a bit of a double-edged sword. Because of the flash-based technology, pretty much all games will run in a browser so you'll get instant access to them on PCs running Windows and Apple computers running Mac iOS. Mobile play is a different story with iPhone and iPad users being mostly out of luck and only a handful of Android devices working with the software.
EGT is slowly rolling out a few more mobile options for iOS users but it's taking awhile and right now the games are primarily for desktop users. The games themselves look good with flash technology being utilized quite well to provide vibrant graphics and fast game play.
In general, EGT slots have a more traditional look to them so you aren't going to see the abstract transitions and borders offered by more contemporary developers. That's not necessarily a bad thing, however, as EGT does the classic slots experience quite well. Anyone who's turned off by particularly cluttered or noisy slots would do well to check out the EGT software.
Games Overview
EGT Interactive has a very nice selection of games including traditional slots, progressive jackpot slots, table games, keno, video poker and more. As with most online gaming developers, slots are the main focus at EGT and the company has a enormous catalogue with over 120 different slots and more launching all the time. There are far less of the other games but it's still nice that EGT produces something other than just slots, which has become and issue across the industry.
Slots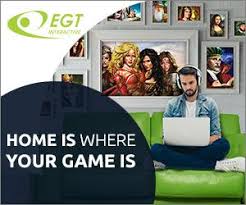 The scope of EGT's slots portfolio is simply staggering. There are currently over 120 different slots on EGT with a little something for everyone. Some of the most popular games include Wonderheart, Grace of Cleopatra, Dragon Reels, 40 Burning Hot, Fast Money, Gold Dust, Fortune Spells and Ultimate Hot. The company also offers a large number of progressive jackpot slots with potentially massive cash prizes.
All of EGT's slots have a certain look that is reminiscent of land-based casino slots from the mid-90s. It makes sense because EGT has a background in land-based casinos and many of its slots of simply been ported over their brick & mortar counterparts. That style will appeal to some players and not others but the game play is solid, regardless. That old-school look might be changing, however, as EGT has slowly been introducing more contemporary-looking slots over the last couple years. For the time being, old-school casino players will be right at home on EGT.
Table Games
EGT doesn't offer many table (just two!) but the ones that it does are quite good. European Roulette allows gives players the chance to mix things up from slots and try a different style of spinning. Meanwhile Lucky Wheel is yet another wheel-based game that isn't found at very many online casinos. Obviously there isn't much selection when it comes to table games on EGT (no Blackjack or Baccarat even) but it's nice there's at least a couple different games.
Live Casino
EGT does not offer any live casino games at this time although it wouldn't be a complete surprise to see the company move into that market considering its background as a land-based casino supplier.
Non-Casino Offerings
EGT offers plenty of non-traditional casino solutions with keno and video poker among the more popular ones. The company does not have a social gaming component but many of its games are available for free play right in browser. Free play is a nice way for anyone to try out the EGT platform without having to risk any cash.
History
Euro Games Technology was founded back in 2002 in Sofia, Bulgaria, where it is still headquartered to this day. The company began its existence as a game supplier to brick & mortar casinos in Eastern Europe but would eventually expand to serve casinos in over 70 different countries. One of its first major expansions was to South America where it made deals with casinos in Colombia and Argentina. The company would go on to open a new headquarters in Buenos Aires, Argentina in 2010.
EGT was actually one of the late-comers to the online world but eventually entered the segment with a brand-new EGT Interactive brand in 2014. EGT Interactive may have been a late entrant in the online casino world, but it quickly made up for lost time and would have over 100 different games in a couple years. Later in 2014 EGT got its first major US contract when it signed a partnership deal with Reel Games in Miami, Florida.
These days, EGT is home to nearly 1,000 employees with offices in Bulgaria, Romania, Croatia, Serbia, Georgia, Macedonia, Hungary, Panama, Tanzania, Spain and Argentina. Over the course of its history, EGT has supplied over 8,000 slot machines to various countries around the world with countless more online casinos now in the mix as well.
Our Take
Do you like old-school European-style slots? If so, signing up at an EGT-supported casino should be your first priority! No other online gaming developer comes close to matching the sheer number of slots that are based on land-based European games. Not as taken with classic European slots? EGT is still worth a look as its overall theme is certainly a unique one. We wouldn't make it a high priority, however.